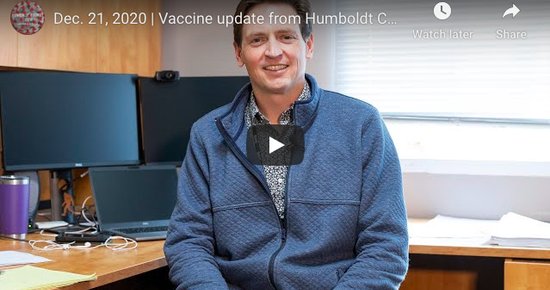 The Humboldt County Joint Intelligence Center (JIC) sent a pair of videos on Monday afternoon after the staggering 113 new cases and a new death reported on Friday.
In one, Humboldt County Health Officer Dr. Ian Hoffman discusses the local launch of the vaccine, noting that doses of Pfizer-BioNTech vaccine have been distributed to four hospitals.
The launch will be done in three phases, each with three levels, says Hoffman. We are currently in Phase 1-A, where doses are administered to hospital workers, especially front-line workers, as well as staff and residents of qualified healthcare institutions, emergency medical staff and dialysis workers.
"We recognize that there are still many challenges," says Hoffman.
In the other video below, the director of the public health branch of the Humboldt County Service, Michele Stephens, addresses the "extraordinary amount of cases" that the county has seen in the last few weeks. "They are not run by Granada," she says, referring to the hearth in a nursing home called Eureka.
Stephens says that behavior during the Thanksgiving holiday is probably responsible for this increase. "And with this week's Christmas celebration, we really want to beg everyone not to gather with loved ones outside your home."