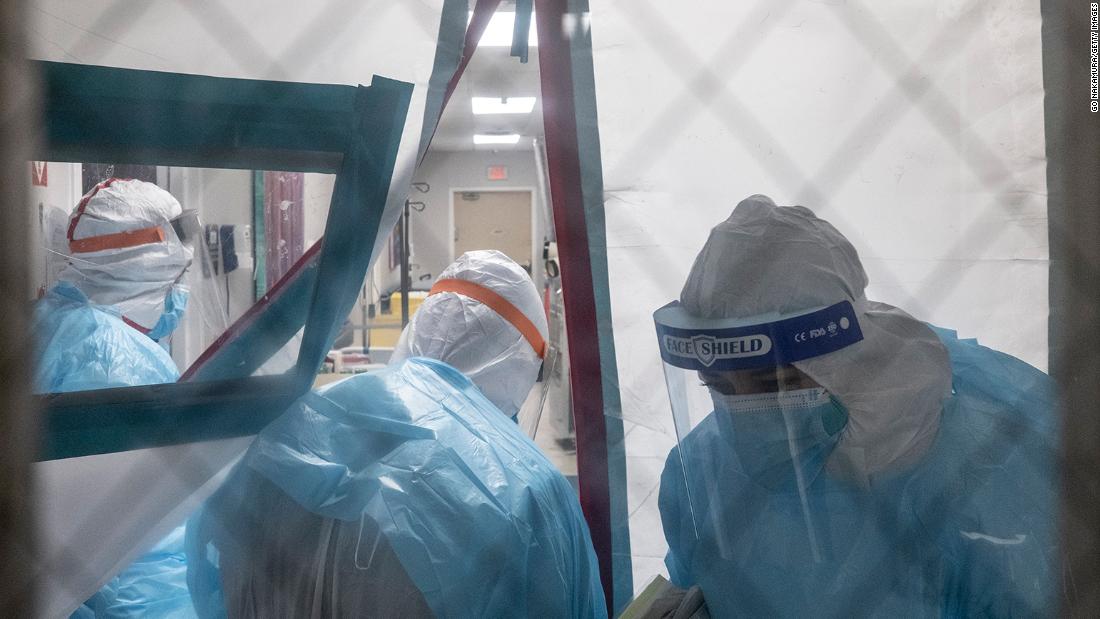 With the expectation that the FDA will soon give the green light, vaccine advisers to the CDC have scheduled meetings for Saturday and Sunday to discuss the Moderna vaccine. The group must vote to recommend the vaccine, and the CDC must accept that recommendation before vaccinations can begin.
"I think this is a very exciting moment," Dr. Hayley Gans, a member of the FDA's Vaccine Advisory Committee, to CNN. "The data presented to us was remarkable in its effectiveness."
If the Moderna vaccine is approved, officials expect an additional 7.9 million vaccine doses to be shipped to the states next week, said Admiral Brett Giroir, assistant secretary for health in the Department of Health and Human Services. Earlier this week, HHS Secretary Alex Azar said that two million doses of Pfizer's vaccine and 5.9 million doses of Moderna had been assigned for next week.
"We still expect every American to have the opportunity to get vaccinated in June," said Giroir.
The task now is to address the skepticism of many communities about the vaccine and get the facts across, said Dr. Francis Collins, the Director of the National Institutes of Health.
"I've had the opportunity to be intimately involved every step of the way here in the development of these vaccines. No shortcuts have been made, there is no hidden information," he told CNN. "This is something you want to do, for yourself, for your family, for the future of our nation."
"Because if we don't get to the point where 70 to 80% of Americans are immunized, this could go on and we could lose even more lives, and that would be the worst possible tragedy," he added.
Some states are seeing a rise in Covid-19 numbers, while others are relaxing restrictions
On Thursday, the country reported more than 230,000 new cases and more than 3,200 deaths. This month alone, the US has reported more than 42,000 Covid-19 deaths.
Hospital admissions also continue to rise, with now more than 114,200 Covid-19 patients across the country, according to the
COVID tracking project.
Florida reported the highest number of daily new cases since mid-July. The governor of Kentucky announced a record number of new deaths, saying it was "by far the most people we lost." Pennsylvania health officials have announced that the state's hospital admissions rate is double the spring peak, with more than 1,200 Covid-19 patients in the ICU.
"We continue to hear about additional hospitals in the state that have few IC beds left, or in some cases out of IC beds," said Health Minister Dr. Rachel Levine Thursday.
Hospital admissions are also on the rise in New York City, the mayor announced, while the average of new cases is a number that is "getting bigger and bigger." And in Oregon, Gov. Kate Brown said hospitals are "being stretched to the limit" and extended her declaration of a state of emergency for Covid-19 for another two months, adding "these are the darkest days of this pandemic."
But while many states are still struggling with ferocious spread, others are relaxing restrictions.
Iowa Gov. Kim Reynolds said this week that the number of Covid-19 cases in the state has fallen, announcing it is lifting all curfews on bars and restaurants and lifting restrictions on social gatherings.
Bars and restaurants can resume their normal activities as long as customers are seated while eating or drinking, wear masks when not sitting, are six feet away from other groups, and there are no more than eight people per group, the governor said . The governor also announced that she is lifting restrictions on collection, but a distance of six feet is required between groups.
In Utah, where health officials said hospitals across the state are operating at full throttle, Governor Gary Herbert announced he would lift the restriction on alcohol sales after 10 p.m., saying local bars and restaurants were willing to move physically. and to wear masks when customers are not eating or drinking.
"We appreciate the willingness to act and help enforce protocols that make bars and restaurants a safe environment for the patron to come and participate," said the governor.
'Another dark month ahead'
As the country waits for the vaccine's effects to really kick in – something likely won't happen until early summer, when vaccines will become more widely available – the tools that could work immediately are to stop the spread of the virus , the ones that have been touted by experts for months: face masks, social distancing and washing hands regularly.
'You don't want to just say,' Well, we're almost there, 'because we aren't. We still have a few dark months ahead if we don't do something right now to try to stop this horrible upward curve of hospitalizations and cases and deaths. "
"Now is not the time to put down your guard and gather for the holidays," he added.
State leaders have reiterated the warning of recent days, urging residents to rethink their vacation plans.
In Wisconsin, a state that has been hit particularly hard since the fall's onset, Governor Tony Evers urged residents to virtually celebrate, with hospitals still "tense" and reporting staff shortages.
In California, a county health official called the climbing Covid-19 numbers a "post-vacation boom that doesn't have to be."
"This is a lot of mixing that may not have happened, but it did, and it has resulted in a massive increase in the number of cases for us," said Barbara Ferrer, Los Angeles County's director of public health.
'We are entering a new holiday season. We really need people to stay at home. Don't mix, don't travel. '
In Tennessee, Governor Bill Lee said that while vaccine authorization is a major turning point in the pandemic, the sobering reality was that more residents are getting sicker and that the decisions people make over the Thanksgiving holiday are having a serious impact on the state hospital. system.
"One thing that this vaccine will not fix or cure is selfishness or indifference to what is happening to our neighbors around us," he said.
Some states will receive fewer vaccine doses
Multiple states – including Iowa, Illinois, Washington, Michigan, and Oregon – have now also been told by the federal government to expect fewer doses of Pfizer's vaccine than initially promised.
On Thursday, Washington's administration Jay Inslee wrote on Twitter that it was told that the state's vaccination allocation "will be reduced by 40% next week," adding "no explanation was given."
"This is disturbing and frustrating," he says
wrote
. "We need accurate, predictable numbers to plan and deliver success on the ground."
The cause of the delay remains unclear to many. An HHS spokesperson said reports of the reduction in jurisdiction allocations are "inaccurate" and states will generally receive their full supplies – although deliveries may be spread over a longer period of time.
"As with the initial shipments of the Pfizer vaccine, jurisdictions will receive the vaccine at different locations for several days. This eases the burden on the jurisdictions and spreads the workload over several days. This same process was successfully used for the initial distribution. of the Pfizer vaccine, vaccine, and we just apply the lessons learned, "the spokesman said.
Pfizer said in a statement Thursday that the company "had no manufacturing problems" and that "no shipments of the vaccine are on hold or have been delayed."
"We still have millions of doses in our warehouse, but so far we have not received shipping instructions for additional doses," said Pfizer.
CNN's Lauren Mascarenhas, Nakia McNabb, Kay Jones, Sara Murray, Ellie Kaufman, Nadia Kounang, Priscilla Alvarez, Tina Burnside, Melissa Alonso and Ben Tinker contributed to this report.