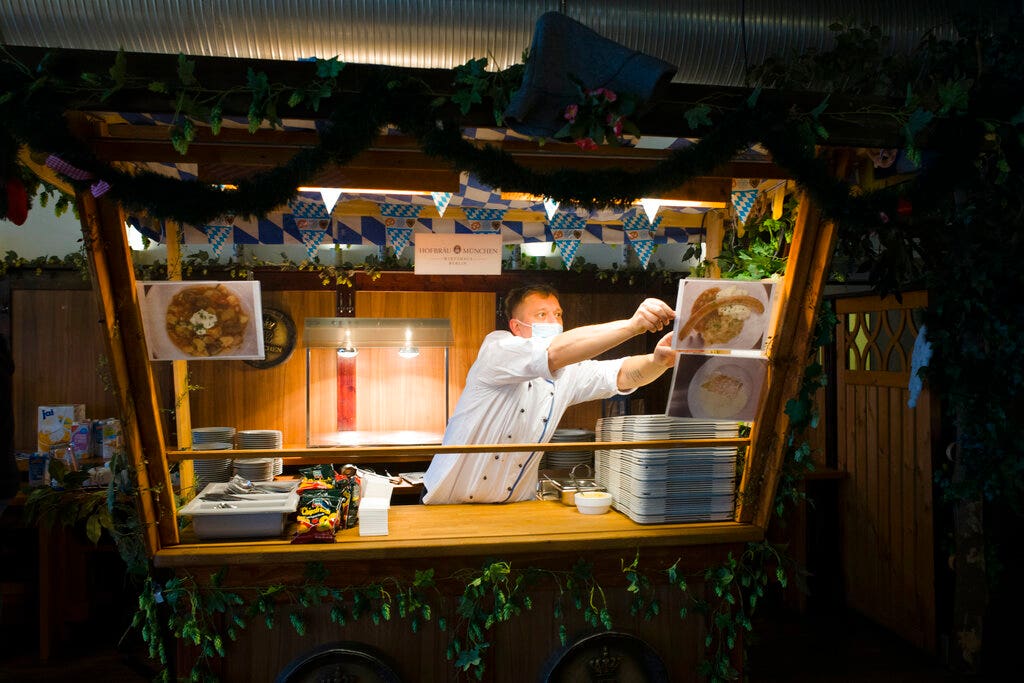 The coronavirus pandemic has not made life on the streets of Berlin easier for Kaspars Breidaks.
For three months, the 43-year-old Latvian is facing homeless shelters that operate at low capacity so that people can be kept at a safe distance from each other. And with fewer Berliners going outdoors, it's much harder to raise money by manipulating or collecting bottles to sell for recycling.
But on a cold winter morning this week, Breidaks woke up to a free hot meal and a place to warm up, after the largest restaurant in the German capital, Hofbraeu Berlin – itself closed due to coronavirus blockage restrictions. – changed gears to help the homeless.
"Other homeless people at the train station told me about this place," Breidaks said, pulling out a black fur hat with long flip-flops as he sat on a bench in the warm, spacious beer near Berlin's landmark, the market square. Alexanderplatz. – I came here for hot soup.
DENNY'S SERVER SHOULD END ABOUT AFTER CUSTOMERS REFUSE TO WEAR MALE, VIDEO SHOWS
An employee of the restaurant, who volunteered at a shelter, proposed to open the Bavarian-style beer hall in a closed style – after the model of the famous establishment of the same name in Munich.
It was a clear win-win proposal, said Hofbraeu manager Bjoern Schwarz. In addition to helping the homeless in difficult times, the city-funded project also provides employees with the work they need – and gives the restaurant a welcome income.
Click here to sign up for our lifestyle newsletter
In cooperation with the city and two welfare organizations, the restaurant quickly developed a concept to accommodate up to 150 homeless people in two shifts each day through the end of winter and began serving meals on Tuesdays.
It is only a small number compared to the 3,000 guests at the restaurant, primarily tourists, who would pack the unit in good times. But spacious rooms have proven to be perfect for bringing homeless people and giving everyone enough space to avoid infections.
"Normally, during Christmas, we had a lot of groups here for Christmas parties and then we served pork joints, half a duck or a goose … but not at this time," Schwarz said. "We're still making the delivery, but obviously it's just a drop in the bucket."
In addition to serving food and non-alcoholic beverages and providing indoor heat, the restaurant offers its bathrooms for washing the homeless, and GEBEWO and Berlin Kaeltehilfe help groups provide staff with advice and new clothes if needed. .
For its new clientele, the restaurant opened one floor upstairs, decorated with wood, and arranged 40 long tables.
"We will offer them something different from ordinary kitchen food – real dishes on porcelain plates, with different faces, we will try to offer Christmas-style dishes with many flavors," said Schwarz.
FOLLOW US ON FACEBOOK FOR MORE FOX LIFE NEWS
Breidaks came to Germany three months ago looking for a job. But he says a promised job at the meat factory never materialized and he took to the streets of Berlin begging for money to replace a stolen passport and buy a bus ticket back home.
He is one of about 2,000 to 12,000 homeless people in the 3.6 million-strong city, even after another 34,000 were housed in community shelters, boarding houses and apartments by social services and private welfare groups. .
"The crown pandemic has seriously worsened the situation of homeless people, living in very precarious conditions," said Elke Breitenbach, a senator from the Berlin state government for social affairs, whose department is financially supporting the restaurant turned into a shelter.
"They don't have enough food and when it's cold they have to have places to warm up," Breitenbach added.
Click here to get the FOX NEWS app
On Thursday, the first group of chills to enter the Hofbraeu with Breidaks was served either Thuringian-style bratwurst with mashed potatoes, sauerkraut and onion sauce, or a vegetarian stew with potatoes, zucchini, bell peppers and carrots. For dessert there was apple strudel with vanilla sauce.
For Breidaks, this was more than he had expected after spending a night with sub-zero temperatures crammed near the walls of a large store on Alexanderplatz.
"All I need is hot soup," he said. "And, God willing, I'll be home in January."