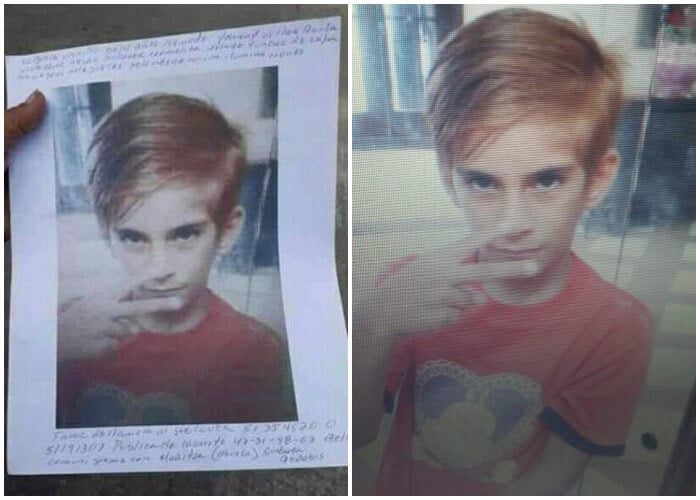 The National Revolutionary Police (PNR) has asked the family of Yosvany Villar Ávila, a child missing for more than 10 days in Havana, not to upload photos of the minor on social networks, as this type of publication serves "enemies of the Revolution to carry out campaigns turmoil and damage the country's image. "
Villar Ávila, 14 years old and with intellectual disabilities, was last seen on Friday, December 11, when he was playing in the corner of his house, located in the Havana neighborhood of Lawton.
Elena Pérez Alfonso, the child's grandmother, said for Cuban newspaper that a tall man took him by the hand, according to the testimony of some neighbors.
Relatives with great concern went to the Aguilera police unit to initiate an investigation and make a spoken portrait of the man, but the minor officer did not care about the situation and told them that he would appear at any time.
Instead of doing his job, the officer also warned the family not to upload photos with Yosvany on social media, as there could be a problem and what needs to be done, according to the officer, was to trust the police.
The family ignored her and, thanks to an image with Yosvany posted on Facebook, PNR expressed interest in searching for the minor, in addition to the fact that his disappearance is already known nationally.
Airobis Ávila Pérez, the boy's mother, told the independent press that Yosvany's father goes on the street every day from the early hours of the morning to try to find him.
"It is true that we were warned by the police. We don't want problems, but we won't stop. We are the ones in mourning and my son must appear. Someone must have seen her. Please help us ", said my mother through tears.
Missing young man in Granma
Since last Wednesday, a young man named José Manuel López Piña missing in Granma province and his family also went on social media to try to locate him.
The last time he was seen, López Piña was wearing a T-shirt, shorts and flip-flops, he was also wearing a mobile phone, but he was stopped.