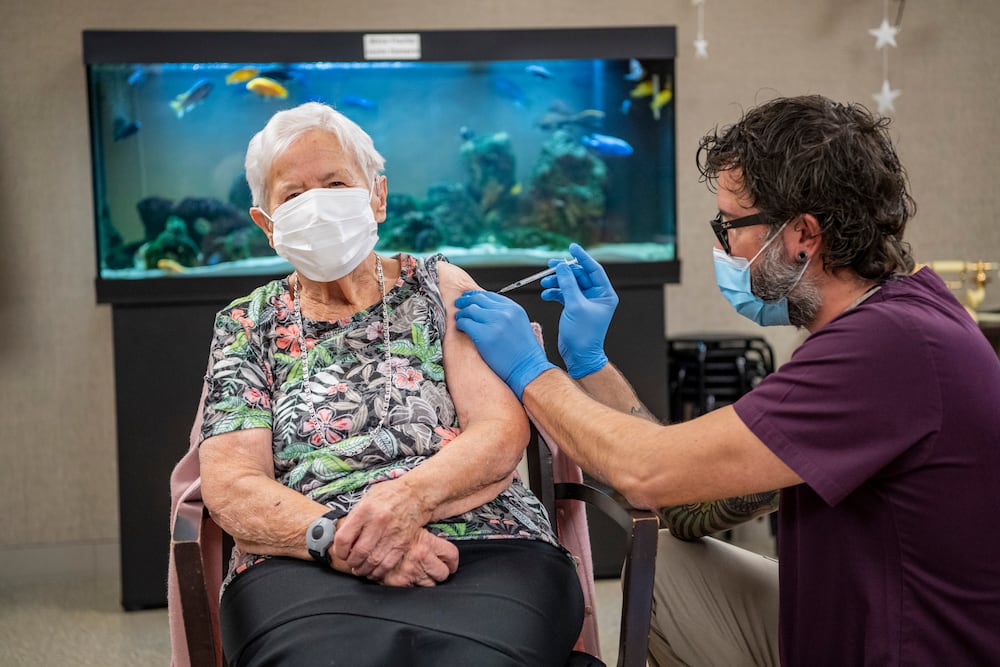 The government will send a first batch of vaccines from Pfizer and BioNTech to the communities this Sunday to start the coronavirus vaccination campaign on the same day, in a symbolic way. Subsequently, it will send weekly to the autonomous regions larger batches of medicines for vaccination of priority groups (residents and workers of nursing homes and front-line health personnel). Several regional councilors revealed details this morning about the inoculation plan, which will be specified this afternoon at the meeting of the Interterritorial Health Council. Madrid's vice president, Ignacio Aguado, explained that the drug will be received every month, while Navarre's health minister Santos Induráin said exactly how many vaccines will be injected on Sunday and where: 150 at the public residence El Vergel in Pamplona. Autonomous sources said that the Central Executive has already given them general instructions on the number of doses and the date of receipt, so that they can organize the distribution and injection plan in their respective territories. The Valencian Community already knows how many doses it will receive on Monday: 30,000.
Vaccines will begin arriving Saturday from Puurs, Pfizer's Belgian factory. Subsequently, a distribution will be made by the autonomous communities, which will store them in centers that in most cases have not been made public for security reasons. In fact, the Interior Ministry has demanded that these sites be kept secret. Yes, it has been revealed, for example, that Aragon will keep them in the clinical hospital before distributing the doses at specific points. There it has two ULT freezers with a storage capacity of 193,050 cans per ULT freezer (386,100 in total). Although the exact number of doses corresponding to each community in this first phase has not been disclosed at this time, this capacity is more than sufficient for the first batches.
The weekly batches will reach each autonomy at the beginning of the week. Vice Madrid He explained that it would be Monday when the remittances arrived, immediately after he admitted that he knew exactly how many doses he would receive for the beginning of Sunday, December 27th. Aguado also pointed out that there are 40 teams ready and that two million syringes have been purchased to be used specifically in this campaign, reports Manuel Viejo. However, the vice-president, after acknowledging that he already knows the approximate doses that Madrid will receive both on Sunday and Monday, introduced political criticism: "We are used to being changed. [la cifra]. "He criticized.
Andalusia, in turn, detailed that two storage centers have been established, one in Seville, for western Andalusia and another in Granada, for the eastern part. Upon arrival of the vaccine, it will be distributed in 45 or 47 primary care centers, depending on the number of doses, and will reach 37 hospitals, reports Margot Molina. "We have 178 vaccination teams ready, with over 500 nurses specially trained to administer the Pfizer vaccine; 73 medical teams will take care of nursing homes and social health centers, where to start the administration of the vaccine ", said the epidemiologist Inmaculada Salcedo, spokesperson of the Andalusian Committee of Experts, after the weekly meeting of the Advisory Council for Alerts public health. In the morning, the Andalusian branch's advisor, Jesús Aguirre, had stated in the morning that they would receive a total of 1,980 doses on Sunday.
On your side, Navarra He even specified how many people will be vaccinated on Sunday, a symbolic date on which vaccination will begin throughout the European Union: it will begin at the public residence El Vergel in Pamplona. Citations will be made for the two doses, both for residents and for social health professionals. The vaccines will arrive in weekly batches. Vaccination of 150 people is scheduled for Sunday, all residents of El Vergel. Councilor Induráin said the weekly batches would arrive "on Monday or Tuesday".
Valencian Community This Sunday will vaccinate 800 people from seven residences, including users and social health staff, who have no or exceeded 90 outbreaks of covid-19 days ago. Each residence must have two nurses and a doctor for vaccination, informs Ferán Bono. The Ministry of Health will provide the missing staff, as well as a coordinator who will oversee the process. Starting Monday, the Valencian Community will receive 30,000 doses per week, according to regional government sources.
In addition, the idea is to get vaccinated as they arrive, not to leave them stored. Vaccines last six months at temperatures below 70 degrees below zero and five days in conventional refrigerators (between two and eight degrees). Thus, the doses will be removed and transported by the usual cold transport services to the residences, which will be the first places where the vaccines will be placed.
The first group is that of people living in social health centers, followed by their caregivers (whether or not they are health care), medical staff and high dependents. In total, about 2.5 million people will need two injections to be immunized, or almost five million doses. Predictably, this whole group will be vaccinated before spring. For reference, the UK has vaccinated half a million people since its program began on December 8.
Coronavirus information
– Here you can watch the last hour about the evolution of the pandemic
– Search engine restrictions: What can I do in my city?
– This is how the coronavirus curve evolves in the world
– Download the tracking app for Spain
– Guide to action against the disease