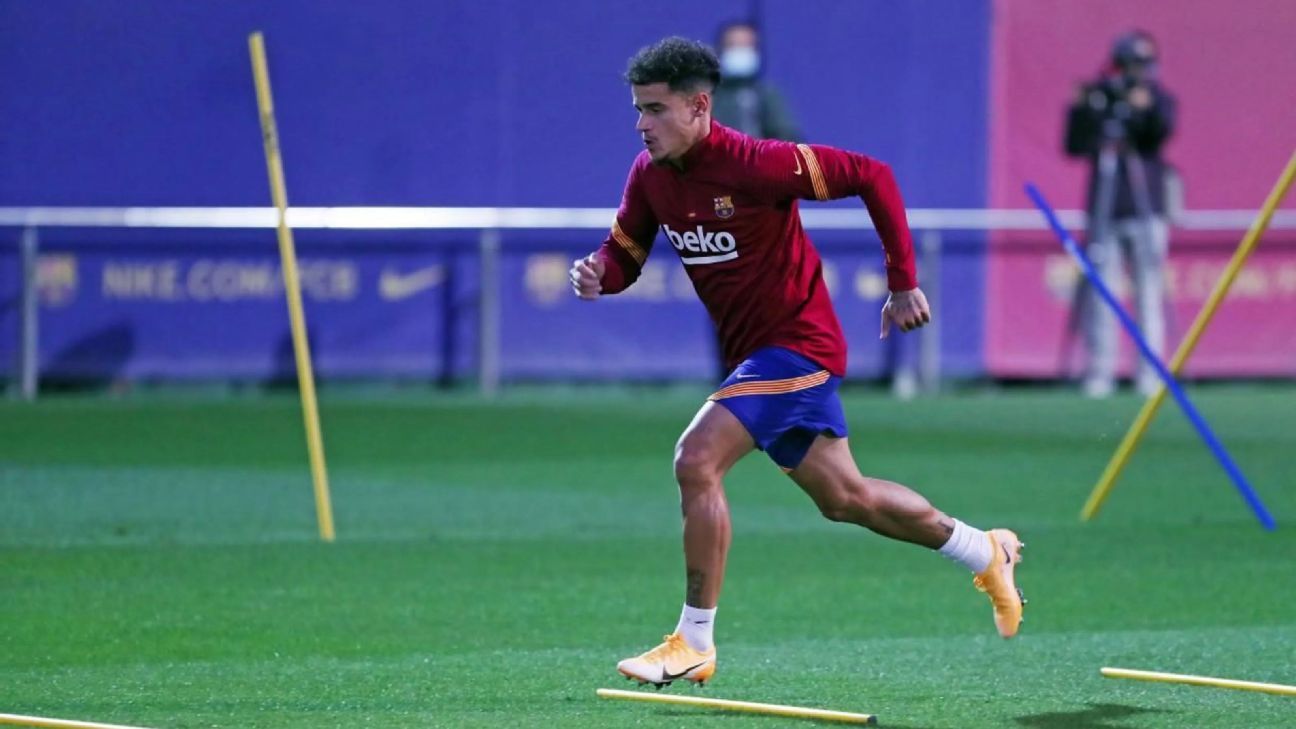 BARCELONA – Barcelona are studying the feasibility of transferring Philippe Coutinho to the winter market, which will open on January 1, and whose final decision, if a club is interested in acquiring him, must be left to the winning candidate to be held on 24 the first month of 2021. The news, advanced by the ARA newspaper, was confirmed to ESPN by various sources, some of the candidates in the electoral process knowing the intentions of the manager led by Carles Tusquets.
Signed in January 2018 in Liverpool for 145 million euros (counting the fixed price plus the variables that the Barça club already had to pay and which could reach up to 160), Coutinho has a contract with Barça until June 2023, for from a budgetary point of view, a transfer should be estimated at at least 60 million in order to avoid accounting for losses … But from an economic point of view, the operation would have an immediate positive effect given the considerable savings it would entail. for a salary, higher than the 24 million gross that the Brazilian has annually.
Tusquets, who a week after taking office already warned about Barcelona's "problematic" economic situation and said that only "if it is sold it can be bought in the transfer window". The manager he leads does not have the power, according to the statutes, to make executive decisions and, although the situation is similar to what happened in 2015, when Barça signed Arda Turan and Aleix Vidal under the command of interim president Ramon Adell, those operations have they did so with the consent of the then candidates and also on condition that the president who won the election could cancel the operation. Which in the end did not happen with Bartomeu's victory.
Now it would be the winning candidate in the January 24 elections who should officially carry out Coutinho's operation and anything else that could take place once he has taken over the club. However, the decision must have the final approval of Ronald Koeman.
DOWNWARD
Back at the beginning of this season, after his assignment to Bayern Munich, the Brazilian started the season with the label of essential in the plans of the Dutch coach and with a more than acceptable performance, which was caught in the bud after his injury during the classic against Real Madrid and from which he did not recover his sensations.
After spending three weeks on leave, his return to the team did not meet expectations and both the appearance of Pedri, who surprised the most optimistic, and the economic needs of the club put Coutinho back on stage, considering a possible transfer as one of the most feasible solutions in this difficult financial situation suffered by the Barça entity.