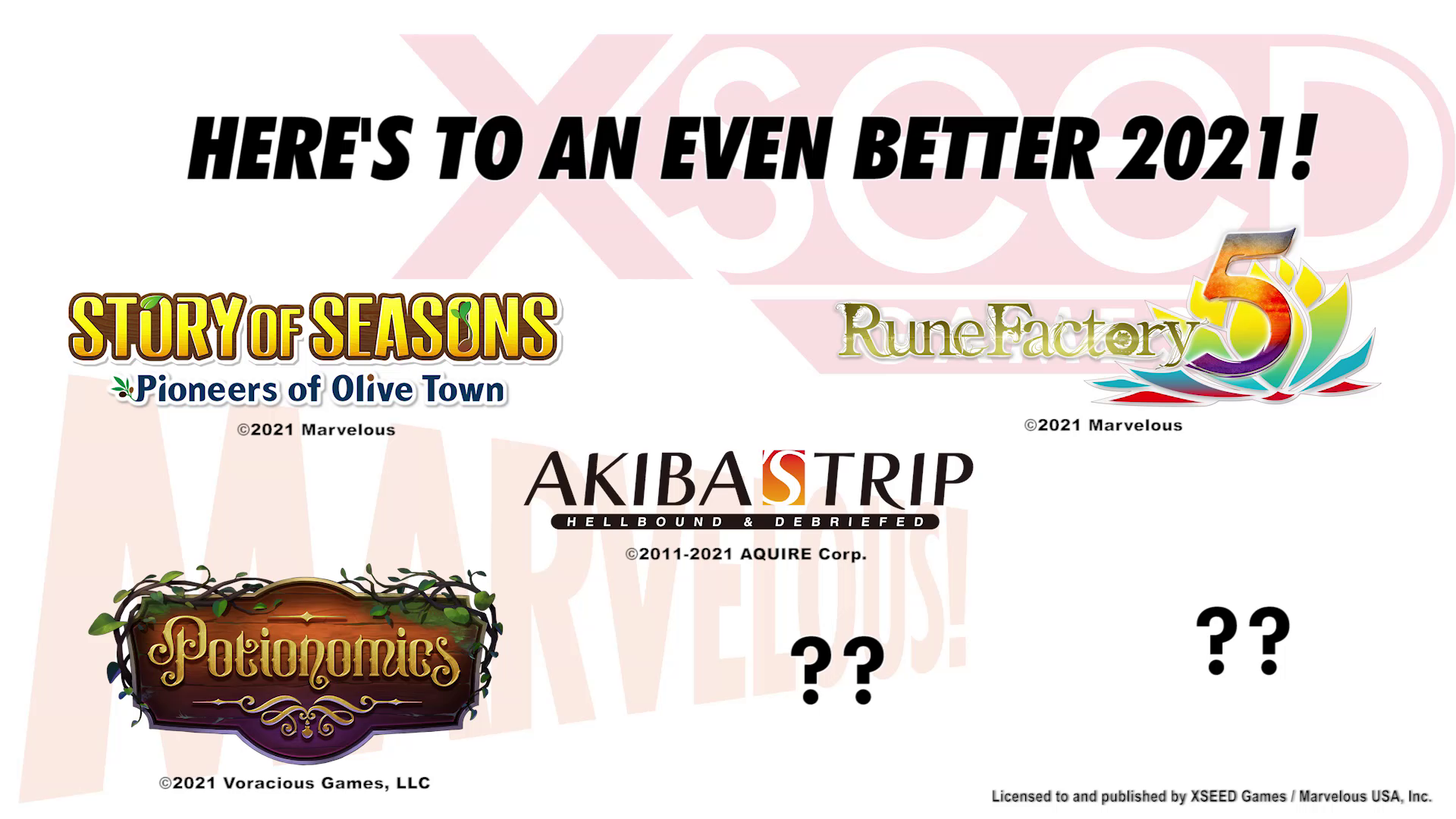 XSEED Games has released an end-of-2020 trailer recapping the titles released in 2020, as well as teasing future titles for 2021.
Among the teases of 2021 is its western launch Akiba's Trip: Hellbound & Debriefed, which was announced for PlayStation 4 and PC in June 2019 and originally planned for release that winter, as well as for the store simulator and RPG Potionomică for PC, which XSEED Games has announced it will release in June 2020.
And in addition to the previously announced launches for 2021 The story of the seasons: The pioneers of the city of Olive (March 23) and Rune Factory 5 for Switch, two unannounced titles are also teased.
In terms of 2020 releases, XSEED Games had a busy year. Here is the complete list of titles released in chronological order:
Witchcraft: The Labyrinth of Lost Souls (PC)
Daemon X Machine (PC)
Rune Factory 4 Special (Switch)
Granblue Fantasy: Versus (PlayStation 4, PC)
Ys: Memories of Celceta (PlayStation 4)
The story of the seasons: Friends of the mineral city (Switch, PC)
Kandagawa Jet Girls (PlayStation 4, PC)
The top (PC)
They are no longer heroes (Switch)
No More Heroes 2: Desperate Struggle (Switch)
Sakuna: rice and ruin (PlayStation 4, Switch, PC)
"It's been an incredible year for us and one of the most diverse game ranges we've had," XSEED Games President Ken Berry said in a press release. "Between being able to release long-developed titles and launching new surprises, we hope that our games have helped people have fun in what has been a challenging year. We want to thank our fans for all the support and look forward to a new year and new surprises. "
Watch the XSEED Games 2020 end-of-year trailer below.
Comments policy
Comments are welcome and encouraged about Gematsu. However, please follow a simple set of guidelines:
Read the full article before commenting.
Stay tuned.
No drive-by comments, including trolling, baits or shitty posts.
You know when not to comment. If you don't care about a topic, you don't need to comment.
No offensive comments. This includes abusive, threatening, pornographic, deceptive or slanderous content / language, as well as general harassment and individual attacks.
No port begging.
No console wars.
Use spoiler labels when posting spoiler or NSFW (non-nud-only) content. E.g: Go from Leomon. Indicate the subject of the content outside the spoiler tags.
Be respectful of other commentators. You do not have to agree with each other, but debate politely. If you find that a commenter is not following this simple etiquette, do not continue the conversation – simply report it.
Gematsu reserves the right to edit or delete any comments without prior notice. This comment policy is subject to change at any time.