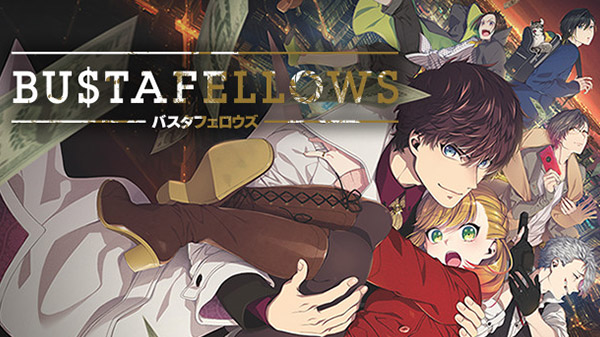 Following the announcement of the English language release at the end of last week, the publisher PQube announced that it will launch the visual novel Otome developed by Extend. Bustafellows for Switch and PC via Steam in 2021 in the West.
Here's an overview of the game via its Steam page:
Story

Arrive in New Sieg, a beautiful fictional city. Get into the shoes of a strong, smart and talented journalist in this romantic adventure. Play the role of a young woman with the ability to jump into the past for a very short time in the bodies of others, which you use to collect data and help people. After witnessing the murder of a crooked lawyer – she goes back in time, trying to save him. Thus, the journey begins as our protagonist returns in time to another person's body and tries to warn Limbo. It's up to you to figure out how to save him!

Key features

Discover mysteries and solve puzzles.
Take the lead and choose your destiny.
Romance five dangerous fellows, each with an unlockable side story.
Unlock different endings.
Experience a unique interactive game.
Meet the characters from Side Kicks!
Browse through beautiful images and polished animations.
Listen to a full Japanese voice cast, including KENN, Yoshimasa Hosoya and more.

Will all routes lead to romance? What happy ending awaits you? Play to find out!

characters

Teuta (name can be changed) – The protagonist. A 21-year-old freelance journalist working in New Sieg. She witnessed the murder of her brother when she was younger and became a reporter to serve justice. He has a mysterious ability that allows him to jump into the past for a very short time in the bodies of others and uses it to help people and collect data. She is a bright and cheerful woman with a positive personality. Although she is a reporter, she is not good at taking pictures.
Limbo Fitzgerald – A crooked lawyer. A 27-year-old lawyer. Limbo is known for pleading in court even for the toughest criminals. Although he is called a crooked lawyer, he is extremely skilled and popular in the city and is seen as a hero. He respects the law in his own standards and serves justice. Born into an extremely wealthy family, Limbo has a soft heart.
Shu – An assassin who silently eliminates the assassins. He is 28 years old. Shu is a heavy smoker who earns his living as a bounty killer by eliminating other assassins. He is a first-class martial artist and specializes in long-distance sniping. The best sniper in town, he has no goals in life other than executing those on the list left behind by his adoptive parents and mentor.
Helvetica – A specialist in changing his appearance. A 26-year-old plastic surgeon. Popular in New Sieg, he loves beautiful things and constantly evaluates passing women based on their appearance. Extremely confident in his abilities, he believes that people can be reborn by changing their natural features.
They can – An autopsy specialist. At only 25 years old, Mozu is the head of the autopsy department and works with the police forces. He is often misunderstood as apathetic and indifferent to others. His way of thinking is usually medically, which sometimes creates unexpectedly fun situations. Mozu talks to the corpses and is rumored to dissect the animals as a hobby. He likes to ride a bike.
scarecrow "A self-proclaimed underground chief." A 22-year-old cyber and computer hacker, famous on the internet for hacking, money laundering, theft, etc. Due to his skills and connections, he is a self-proclaimed underground boss.
Watch the ad trailer below. View the first screenshots in English at the gallery. Visit the official website here.
Comments policy
Comments are welcome and encouraged about Gematsu. However, please follow a simple set of guidelines:
Read the full article before commenting.
Stay tuned.
No drive-by comments, including trolling, baits or shitty posts.
You know when not to comment. If you don't care about a topic, you don't need to comment.
No offensive comments. This includes abusive, threatening, pornographic, deceptive or slanderous content / language, as well as general harassment and individual attacks.
No port begging.
No console wars.
Use spoiler labels when posting spoiler or NSFW (non-nud-only) content. E.g: Go from Leomon. Indicate the subject of the content outside the spoiler tags.
Be respectful of other commentators. You do not have to agree with each other, but debate politely. If you find that a commenter is not following this simple etiquette, do not continue the conversation – simply report it.
Gematsu reserves the right to edit or delete any comments without prior notice. This comment policy is subject to change at any time.